CLARKSTON ARTS SCHOLARSHIPS
Congratulations to the winners of the 2023 Scholarships!!
Sophia Catella - Morgan Marcale - Slate Campbell - Eliise Dowd - Aria Brown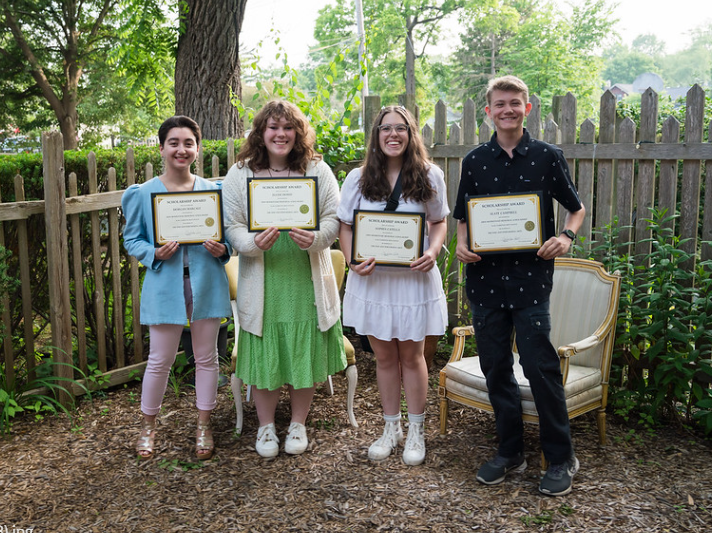 In 2024, Clarkston Cultural Arts Council will award a total of three scholarships to students of the Clarkston Community Schools, grades 6–12, pursuing further education in any area of the arts (visual, performing, etc.). 
   (1) $1,000 scholarship — intended for college tuition for current seniors entering an arts-based collegiate program
   (2) $500 scholarships — intended for students attending arts-based private lessons, programs, or camps
Applications will be available in February 2024
Harmony In the Park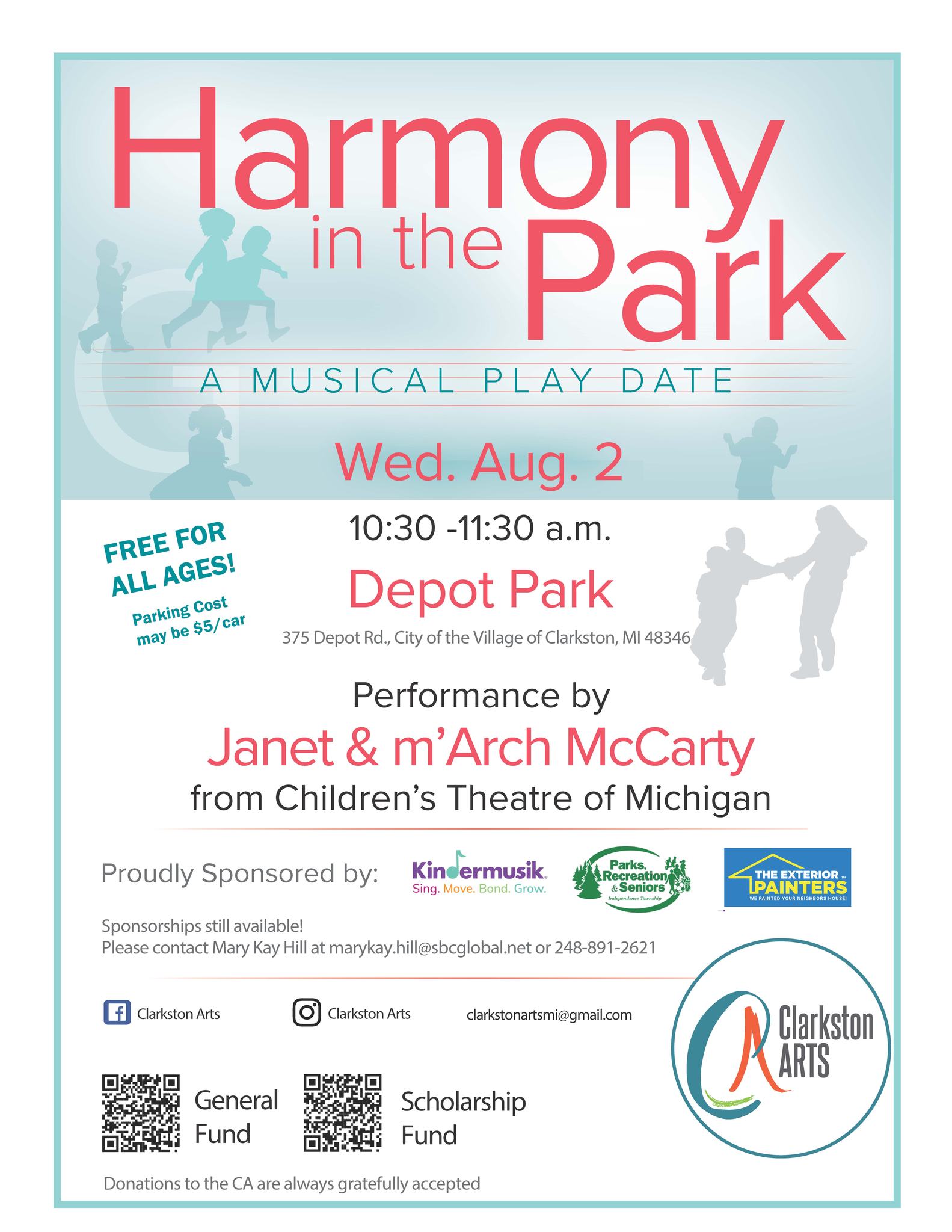 Clarkston Arts is super excited to be hosting Harmony in the Park again at Depot Park this year! This is a FUN and FREE event for families to enjoy!
Harmony in the Park has been a unique and important part of our community since our first event in 2016, with a focus on introducing kids to live musical arts in a community setting. It's a great place for families and students to reconnect over the Summer before school resumes, and offers kids an opportunity to interact with some of the best children's musicians/performers in Michigan!
Huge thanks go out to our awesome sponsors, Kindermusik at the Clarkston Conservatory of Music, The Exterior Painters, and Independence Township Parks, Rec. and Seniors. If YOU are interested in sponsorship opportunities, please reach out! It's a great way to support the arts in Clarkston!
Janet Marie Cheff McCarty and m'Arch McCarty of Children's Theatre of Michigan are the brilliantly talented power-house duo who will be rocking Depot Park! You do not want to miss this!! So, grab a blanket and pack a picnic lunch! We will look forward to seeing you Wednesday, August 2 from 10:30-11:30!
Musically,
Clarkston Arts
ART ON MAIN
We want to bring awareness to amazing local artists!  And with the kind generosity of the Union Joints, we are able to feature art in the windows of the former Tiara building on the corner of Waldon & Main.  Our goal is to change up the art every 60 days.  If you would like your art to be included in the windows, please contact Valerie Salinis via email [email protected].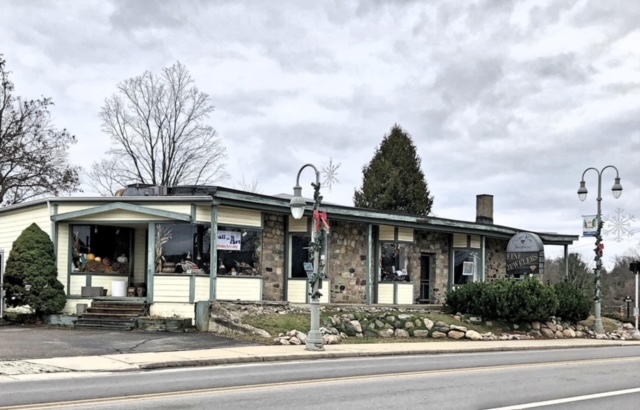 PURCHASE ART FEATURED IN THE MAIN STREET WINDOWS
You LOVE that one piece hanging in the windows of the Tiara building.....and YOU HAVE TO HAVE IT!  Excellent!  Indulge yourself and support local artists - it's a WIN WIN!  Send us an email at [email protected] and we can share details on the piece and coordinate a pick/up purchase.
JOIN THE ARTIST DIRECTORY - IT"S FREE!
We want to bring visibility to all the wonderful local artists.  We want everyone to know WHO you are, WHAT you do, and HOW to get in touch with you.  List your art business!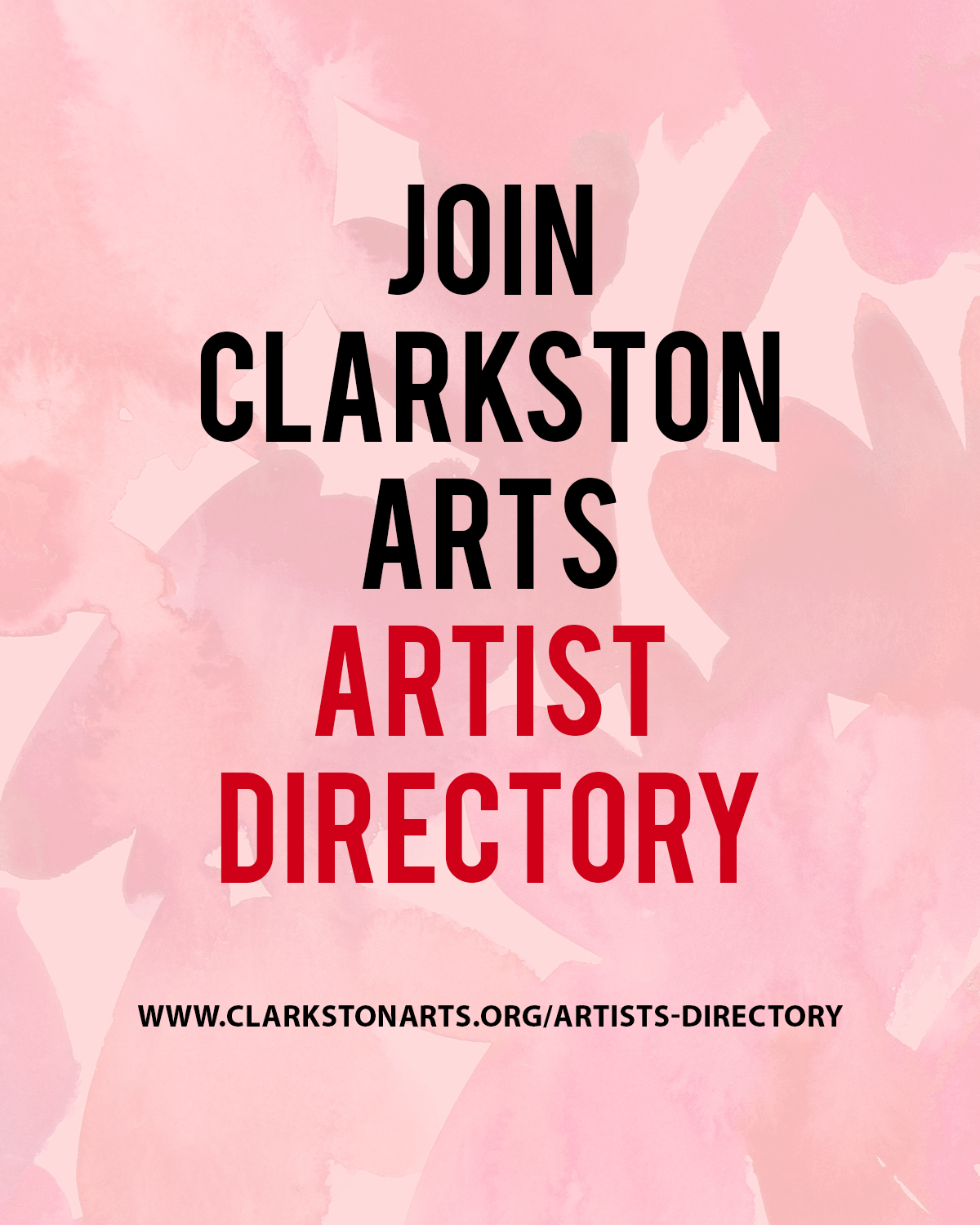 ADD YOUR EVENT TO OUR CALENDAR
We want to help you promote your event with our calendar.  Anyone can submit an event on line...it's that easy!
SUPPORT CLARKSTON ARTS
Clarkston Cultural Arts is a non-profit organization that relies on volunteers and donors. Please consider supporting our organization and local artists.